A cleanroom is a room in which airborne particles are controlled to specific limits in order to minimize contamination to research, manufacturing, or packing. Airborne particles are generated by people, equipment and process facilities. They must be continually removed from the air to keep the cleanroom up to its class standard.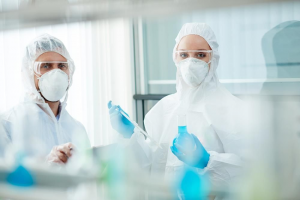 So, what do you use to clean a cleanroom? Every cleanroom has a different cleaning schedule and procedure and cleanroom supplies and they can depend on the class of the cleanroom.
Here is a comprised list of some equipment and supplies that are needed to clean the cleanroom and all supplies must meet the class 10,000 minimum requirement.
Cleaning and disinfecting solutions
Cleanroom mops
Cleanroom vacuum (if allowed)
Cleanroom wipers
Cleanroom mop bucket and wringer
As stated before, each cleanroom will have its own set of procedures and schedule but this is a general idea:
Cleaning all work surfaces in the controlled environment
Vacuuming the floors and work surfaces (if allowed)
Empty appropriate trash and waste
Clean the doors, door frames, and locker in the pre-staging areas using the approved cleaning solution and disinfectants
Mop gowning and cleanroom floors
Before beginning any cleaning process in your controlled environment, check with procedures and schedule and be aware that there might be certain local requirements. Each cleanroom's supplies and equipment are different and therefore may require a different set of procedures.