We have all seen egg chairs that are truly unique, and we might have really wanted one in the past. The designer behind the fun style is Arne Jacobsen, a Danish designer, an architect who lived between 1902 and 1971. His legacy is a major contribution to architectural functionalism and global recognition for simple but highly effective chair designs.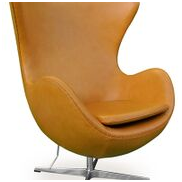 Born in 1902 in Copenhagen, Jacobsen's father was a trader in safety pins and fasteners, while his mother worked as a bank employee. His hobby included painting floral motifs and wanting to follow his desires, young Jacobsen wanted to be a painter. His father suggested that a more reliable world of architecture might be a safer bet. Arne joined the architecture department of the Royal Danish Academy of Fine Arts and studied there between 1924 and 1927.
He is best known and remembered for his intelligent furniture design but was specifically trained as an architect. However, he never called himself a 'designer', famous for not liking that term.
Egg Chairs are very simple but say a great deal. It's a great design – heaps of personality, beautifully carved, surprisingly comfortable and durable. For your own Egg Chair visit www.pash-classics.com/egg-chair-inspired-by-arne-jacobsen.html
This chair was first designed in 1958, as a commission for the SAS Royal Hotel in Copenhagen. This was Jacobsen's biggest commission, after designing almost everything inside the hotel, from facades to tableware.
The shape of the egg is unique as nothing like this shape had been seen in furniture design before. The reason he chose the egg design was that he wanted the hotel interior to be in direct contrast to the exterior, which was modern and tense. The softness and roundness of the natural organic lines of the egg are in sharp contrast to the hard steel and outer shell of the building glass.
This caused a stir when it was first revealed and became a landmark in modern furniture design concepts. It was also made of new material, a foam skin which is then coated. The Jacobsen Egg Chair has been produced by the company Fritz Hansen since its first release in the 1950s. They are still individually made in Danish factories with the best luxury ingredients.
Each individual chair is equipped with a special wave method. It takes more than 500 stitches to make the Egg Chair perfect, with more than 1,000 needed for leather chairs. It takes time but that's what gives the seat a premium aesthetic and luxurious feel.
For something that still looks timeless and even contemporary, it's hard to believe the original concept dates back to the 1950s. Fritz Hansen has released a limited number of special skin designs – exactly 1958 – to celebrate the year Egg Chair was designed. Made of pure leather that will age in a stunning way and with a 23-carat gold base.