With more and more people renting instead of buying their own homes, it is becoming increasingly important for standards to stay high in rental accommodation. Tenants want a well-finished home to call their own, but landlords don't have to break the bank to create a luxurious look. Here are a few easy ideas for updating the flooring in your properties so you can attract tenants who plan to stick around for a long time.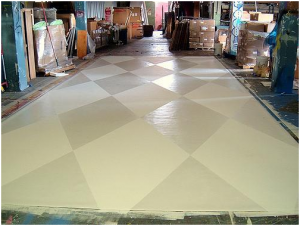 Vinyl

Vinyl flooring can be used in lots of different rooms and is available in a vast range of styles to suit any home. It is a surface that is relatively inexpensive, hard-wearing, and easy to fit and look after. It is also readily available to buy online.
There is a wealth of color and pattern options available that are sure to suit renters in student accommodation right through to those in high-end luxury apartments.
If you are a landlord and your property has new flooring and you want to rent to a prospective family or someone living on their own you might want to use companies similar to Gloucester Estate Agents.
Rugs

If you're not able to shell out for a whole new floor right now, a rug can be a great way to update a room. Rugs are an easy and inexpensive way to add warmth and character to spaces.
Rugs have lots of benefits. They are available in a host of colors and patterns, and they can be teamed up with any existing floor including carpet, laminate or vinyl. Rugs are available in a lot of sizes and price ranges to suit your needs. They can also be easily cleaned; smaller rugs might even fit in a washing machine.
If you want a bold look for your tenants you could even choose some contrasting rugs to use side by side, providing a unique interior design look.
Laminate

Laminate flooring is another great option. It provides a classic wood look suited to most homes and is durable and easy to fit if you choose to do it yourself. The planks simply click together and can be laid on top of most existing flooring, with the exception of carpet.
As a landlord, you are obligated to make sure you keep a property in good repair. It is also in your best interest to keep things looking as good as possible.
A well-decorated flat is far more likely to attract a long-term tenant who wants to make your property their home.